Libby Bonis, Women's Rugby President, was awarded a Special Recognition Award for her contribution to sport and lasting impact that she leaves behind at UEA.
During her time at UEA, not only has Libby been president of the Women's Rugby team, but she's also featured on the committees of Women's Hockey and Athletics and had roles as a Sports Exec, Ziggurat Activator and uea+sport marketing ambassador.
Libby was one of five students to be given the Special Contribution Award, with the award presented by five-time Olympic rowing medallist, Dame Katherine Grainger.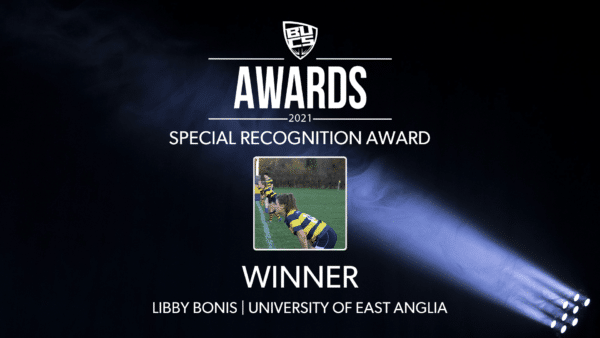 The UEA Men's Hockey club's Pride in UEA Sport campaign won the 'Diversity and Inclusion Award', which celebrates an institution or club campaign that highlights that their activities, programmes and opportunities are inclusive and accessible to all.
The men's hockey club ran the campaign during LGBTQ+ History Month in February, aiming to break down stereotypes about sports clubs and amplify the voices of LGBTQ+ members across the 58 clubs on campus.
Members of these clubs were given an opportunity to share their experiences of being LGBTQ+ and being part of a sports club. It allowed them to talk about their experiences of 'coming out' to club members, the support they've received, the inclusion and diversity within their clubs.
The BUCS Awards are held annually, rewarding the individuals and teams within university sport that provide opportunities and build a positive culture within university sport.