Technique Classes:
We hold weekly technique classes on a Thursday evening in the Kiff Matheson Suite in the SportsPark. These classes are a chance to learn new skills, improve your tapping technique and to learn short sequences. We also learn routines to perform in the UEA Dance Winter and Summer Shows, giving everybody who wants to the opportunity to perform!
Beginners: 5:15-6pm
Intermediate: 6-6:45pm
Advanced: 6:45-7:15pm (Advanced tappers are expected to attend the Intermediate class as well)
If you've never tapped before don't worry as we have a selection of spare tap shoes for you to try and have a go.
Competition Squad rehearsals take place on Sundays 4:30-6:30pm.
Irish classes:
During 2021/22, we introduced a new style of dance to UEA: Irish Dancing!
The class is beginner friendly and is always a bunch of laughs. Whether you want to try it out for the first time, or improve on previous experience, be sure to come along on Tuesdays and have a go! Routines learnt in Irish classes are also performed at the Winter and Summer Dance Shows (optional).
We now hold bi-weekly classes in Blackdale 0.08 on Tuesdays 8-9pm. We charge only £5 for a year's Irish membership.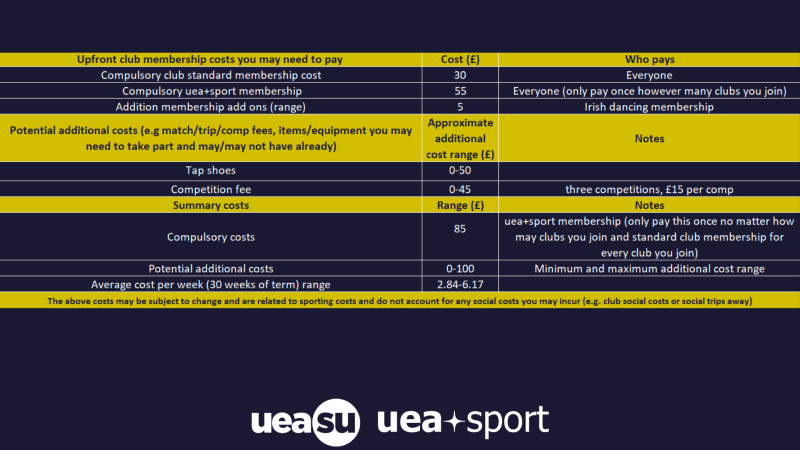 Competitions:
We have an Intermediate Competition Squad and an Advanced Competition Squad who attend National University Dance Competitions every year. In 2018/19 our Intermediate Comp Squad placed 1st at Surrey University Dance Competition and 3rd at Northampton University Dance Competition. In 2019/20 they placed 3rd at Sheffield University Dance Competition. In 2019/19 our Advanced Comp Squad placed 2nd at Manchester University Dance Competition, 2nd at Surrey University Competition and 1st at Northampton University Competition. In 2019/20 our Advanced Comp Squad placed 1st at Sheffield University Competition. We are always aiming to improve and are extremely dedicated to performing at our absolute best. As well as these competitions, we also participate in our annual Derby Day against Essex University, which is always a fun day.
In 2020/21, our intermediate competition team competed in virtual competitions because of COVID. Despite learning most of the dance over zoom, our team pulled together and had an immensely successful season. They placed 1st at Lincoln, (with a Best Costume award) 1st at UCL, (with a spectator award) 1st at Northampton, 2nd at Royal Holloway (after being moved up to advanced category as well as winning a best concept award) and 2nd at DMU.
Last year, our intermediate team competed at in-person competitions for the first-time post-pandemic, and came away with 1st at DMU Dance Competition, 3rd at Go Hard or Go Home UK (Nottingham) and 3rd at Sheffield University Competition.
Our Intermediate team also won against Essex at 2022's Derby Day, held at Essex University.