Monday – 1800-2000 – Beginners (Open to all) – CHALL
Thursday – 1800-2000 – Advanced (Graded or Invite from Coach) – CHALL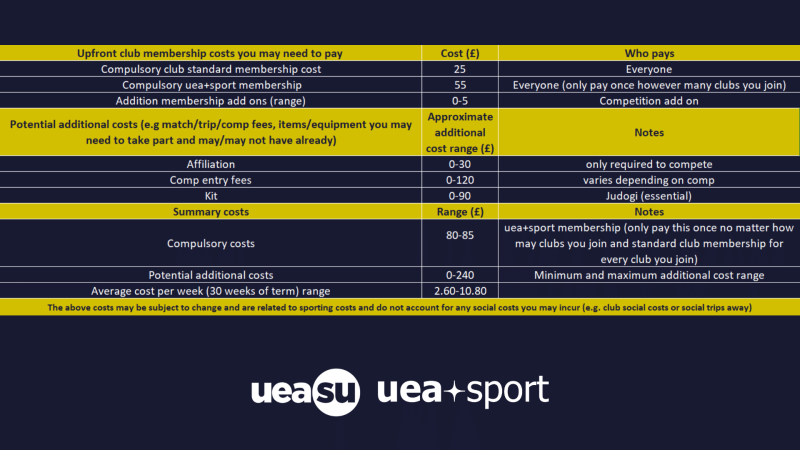 After having had to rebuild the club after Covid-19, UEA Judo is back and aiming to reach new heights. The club has been training in the CHALL since at least 2019, with a range of coaches over its years from both students and external coaches. In its current formation it is coached by John Ellis (5th Dan), Oli Swanepoel (1st Dan) and Michael Eaton (1st Kyu).
In more recent time, the club has competed at a variety of competitions around the country, including:
– Sheffield November 2021: Our first competition of the newly rebuilt club
– BUCS 2022 where our former president Jordann scored a Gold in her category
– Derby Day April 2022 which involved our first every participation against Essex with UEA winning!
– London Area Development Tournament May 2022 scoring 2 Golds, 2 Silvers and a Bronze between 5 members
– Thetford Local Area Tournament May 2022 scoring 3 Golds, 2 Silvers and 2 Bronzes between 7 members
– High Wycombe Ne-Waza Championship scoring 2 Golds, 1 Silver and 1 Bronze between 3 members.
– High Wycombe Kyu Grade Cup: scoring 1 Gold and 1 Silver between 3 members.
2018- 2 medals won at the 2018 Eastern Area Judo Competition.
2018- hosted with help from MMA a series of Self-defence sessions for the ThisGirlCan campaign.
2018- 4 medals won at the 2018 Littleport Youth and Senior Judo Competition.