Summer Group Exercise Classes
With Sportspark now open, we are pleased to now be able to begin our summer Group Exercise programme!
All places are required to be booked online or over the phone, BEFORE the class. At this time classes are only available to be accessed by students with a campus card that has been registered at Sportspark.
All sessions are £2.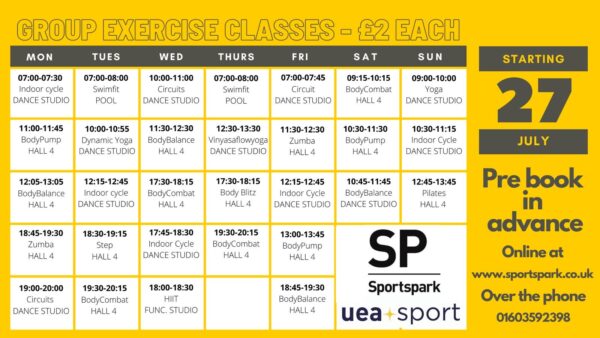 The dog are back in town! We will be starting our weekly dog walks with Tom & Toto from Wednesday 5th August at 3pm.
Please book £1 ticket via www.ueadifferent.com.
Walks will be running with a maximum of 12 people per walk, with social distancing adhered to. But don't worry there will still be plenty of opportunities to stroke and fuss the dogs!
Any questions about the walks, please contact studentsport@uea.ac.uk