UEA Touch Rugby Festival 2021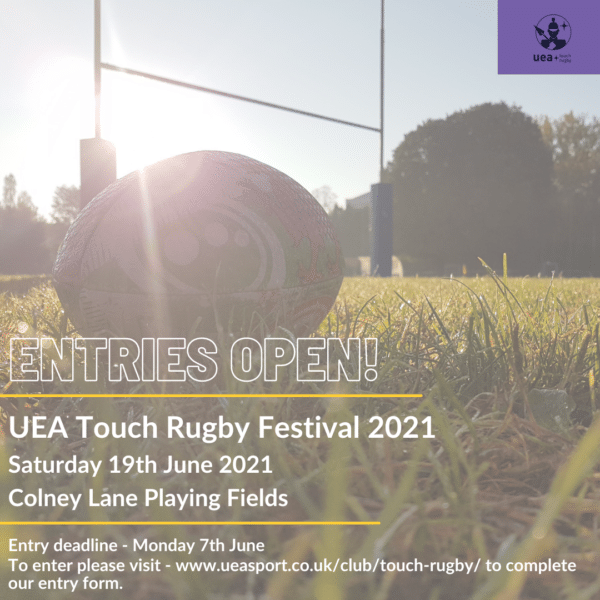 Our UEA Touch Rugby Festival 2021 will be taking place on Saturday 19th June 2021 at our Colney Lane Playing Fields.
Competition Rules:
•       Playing standard touch rules, except that we will be playing 7 minute halves. To see a detailed breakdown of the rules please consult here.
•       There must be a minimum of 2 players of either gender on the pitch at all times eg. 4 men and 2 women
•       Captains must report each match score to the HQ after each game.
•       Squads can consist of up to 14 players, with no more than 6 on a pitch at any one time. Rolling substitutions will be in place.
Referees:
For the tournament to run smoothly we would please request for each team to provide 1/2 player referees to cover games while you are not playing.
How to register:
If you want to register a team, then please use the team entry form below or contact uea+sport via claire.harper@uea.ac.uk. Once we have received your entry form we will be in contact with you to confirm your place.
Entry Fee:
The entry fee per team is £25. This can be paid on the day at the welcome desk.
Team Colours:
Teams are requested to wear the same colours for match fixtures and where possible bring an alternative colour in a case of a clash.
Equipment:
A player must not use equipment or wear anything that is dangerous to themselves or another player, including any kind of jewellery. Jewellery which is potentially dangerous and cannot be easily removed should be taped.
Footwear: 
Players should wear appropriate footwear, to compete in.
First Aid:
First aid qualified staff will be on duty at all times, in the case of an injury, please contact a Festival Administrator immediately.
Tuesday- 19.00-21.00- Sportspark Astro Pitches
Thursday- 17.00-19.00- Colney Lane
President – Joe Reid
Secretary – Ellisa Baggott
Treasurer – Daniel Wilson
Men's Captain – Ben Hegan
Women's Captain – Caitlin Mellor
Publicity Officer – Imogen Cliff
Social Secretaries – Rory Shenton & Daniel Wilson
Equality & Diversity Officer – Sam Durrant
Union Council Rep – Sam Wye
Health & Safety Officer – Matt Freeman
Winning the Bowl at Cambridge UNTS
Winning Progress Participation award at the uea+sport awards 2020.